Large diameter wire springs, also known as heavy duty springs, are used for applications that require more force than regular springs. These springs are extremely durable and designed to absorb shock and vibration. This type of spring is ideal for equipment that requires a heavy load force.
At M & S Spring, our team of experts can assist you with accurate design information for large diameters springs while meeting your demands for quality, price, and delivery. We are able to do this by utilizing our many years of experience, spring design software, and specialized spring manufacturing equipment.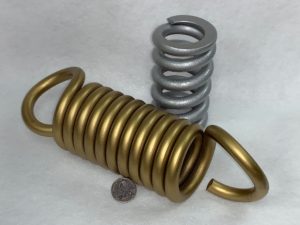 Size Capabilities
With over 60 years of experience, M&S Spring has developed the capabilities to be able to manufacture large diameter wire springs. Our spring coiling technology can manufacture spring wire diameters typically up to .500 inch.
Types of Heavy Duty Springs
Deciding on the type of heavy duty spring can be difficult when it comes to making sure your spring will meet the desired loads or torque for your application. M&S Spring offers the following types of large wire springs:
| Type | Advantage |
| --- | --- |
| Heavy Duty Compression Springs | Compression Springs can be manufactured in a wide range of shapes and materials. |
| Heavy Duty Extension Springs | Extension Springs can be designed with the exact type of hook you need for your application. |
| Heavy Duty Torsion Springs | A torsion spring is used when there is a need for rotational torque. |
Material Capabilities
Large diameter springs can be manufactured in a wide range of materials. The steels most commonly used in our manufacturing process for heavy duty springs are Oil Tempered, Chrome Silicone, Music, and Stainless Steel Wire.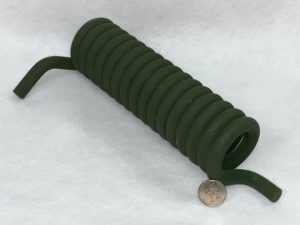 Industries Served
Heavy duty springs are used in industries which utilize heavy equipment with components that need to be able to withstand the extreme forces involved in their applications. Some of the common industries that use large diameter wire springs include:
Agriculture
Automotive
Construction
Energy & Oil
Military
Mining
Large Wire Diameter Spring Gallery