A garter spring is either a helical compression spring (space between coils) or a helical extension spring (close wound coils) that is coiled in a length, with both ends connected to form a ring or circle. The manufacturing process includes coiling, stress relieving and assembly of ends if required. Garter springs are typically manufactured right-hand wound with a tapered end, where the tapered end screws into the opposite end. They can also be manufactured with loops at each end that can be assembled together. With either type of garter spring end, the strength of the ends must be appropriate to prevent separation or disassembly.
M & S Spring manufactures both compression and extension garter springs. Compression garter spring designs (coils are closed or touching) provide a constant contracting force; the same force that a rubber band produces. These types of garter springs are typically applied by expanding them over items or details to hold them together. An extension garter spring design (pitch or space between coils) provides a constant expanding force, and are most commonly used inside of an application where an outward force is needed.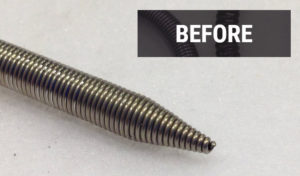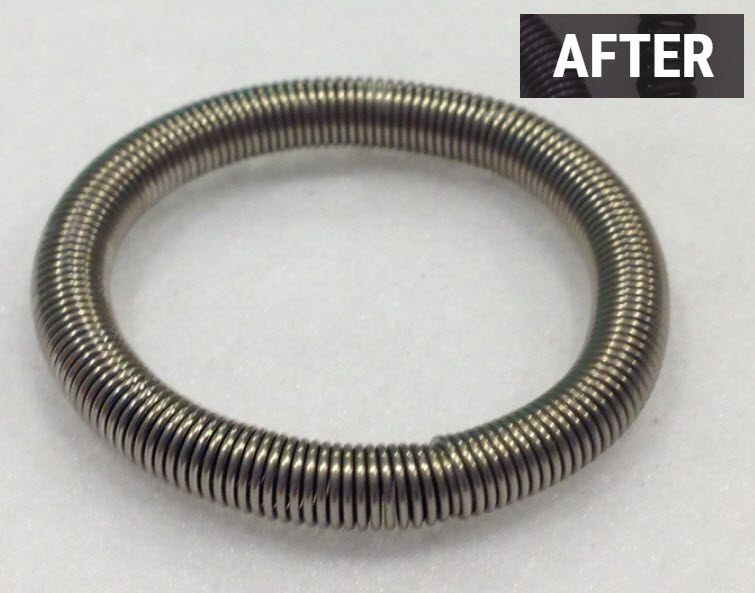 At M & S Spring, we make your spring purchasing experience simple by providing you with accurate design input while meeting your demands for quality, price, and delivery. This is accomplished by using our customized Customer Order Management System (COMS) software, our spring design software, and specialized spring manufacturing equipment.
Common Industries & Applications for Garter Springs
Garter springs are found throughout many industries and applications. Here are some common industries and applications where garter springs are used:
Automotive
Aerospace
Oil Seals
Small motor belts
Sprag clutches
Garter Spring Materials
Spring steels most commonly used in our process for manufacturing garter springs are Music and Stainless Steel wire. Our garter spring manufacturing capacity typically ranges in wire diameters from .020″ up to .105″, with many of our prototype and short-run orders ranging from these sizes.
Most Commonly Used Round Wire
The table below details the most common materials and grades that we work with. If the material needed for your project isn't listed, please feel free to fill out a quote today to discuss custom solutions!
Garter Spring Gallery