Extension springs are helical wound coils that are close wound, which results in a required force to separate the coils, known as initial tension. They provide resistance when using a pulling force, and typically have a hook formed at each end. Most common hook types used for extension springs are regular and extended, with some designs requiring a more complex configuration depending on the application.
At M & S Spring, we make your spring purchasing experience simple by providing you with accurate design input while meeting your demands for quality, price, and delivery. This is accomplished by using our customized Customer Order Management System (COMS) software, our spring design software, and specialized spring manufacturing equipment.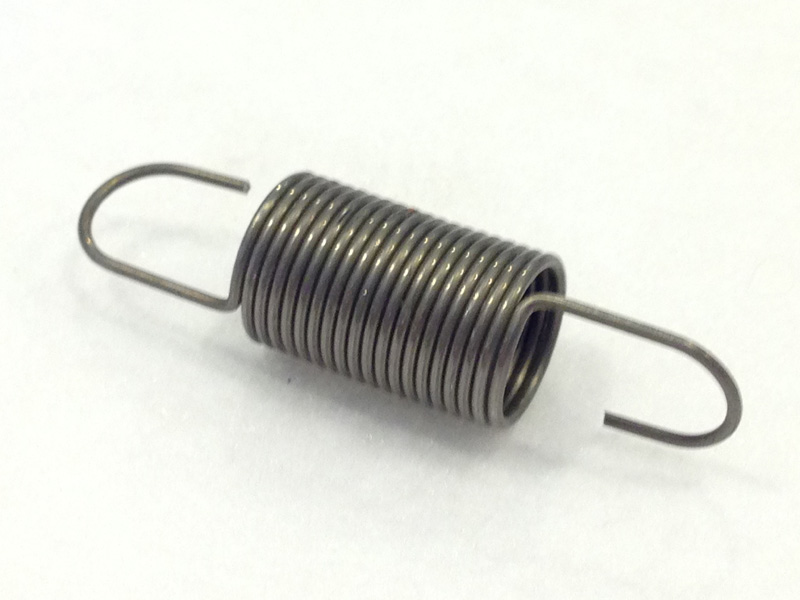 Extension Spring Hooks
We understand that in some cases, hook configurations for extension springs are a result of the application. To help fit your application, M & S Spring Company can manufacture springs with regular, extended, swivel, or specially designed hooks. Generous bend radii in spring hooks and bend areas allows for a more reduced stress design. If your hook configuration requires tight bend radii, more malleable spring materials would be a better choice, such as Music Wire ASTM A228, Oil Tempered Wire ASTM A229, and 302 Stainless Steel ASTM A313.
| Hook Type | Design | Advantage |
| --- | --- | --- |
| Extended Hook | Extended hook extension springs have hook lengths that are typically more than 110% larger than the inner diameter of the body coils. | Produces more force out of spring for load requirements. |
| Regular Hook | Regular hook extension springs have hook lengths that are typically 80% smaller than the inner diameter of the body coils. | Most economical hook design. |
| Swivel | A swivel extension spring is made up from two different details. The first detail being the body coils, and the second detail being two "S" shaped loops (one for each end of the spring). The "S" shaped loops are manufactured separately and are installed inside of the body coils at each end during the final process of tapering the end body coils around one end of the "S" shape. It is the "S" shape on each end that is hidden within the end body coils and is trapped from being pulled out of the spring during use. | "S" shaped hooks are allowed to rotate, or position themselves naturally. This shape prevents any stress on the body of the coils. |
| Special | Special hook extension springs are dependent on the design or application needs. | Endless configurations due to custom design. |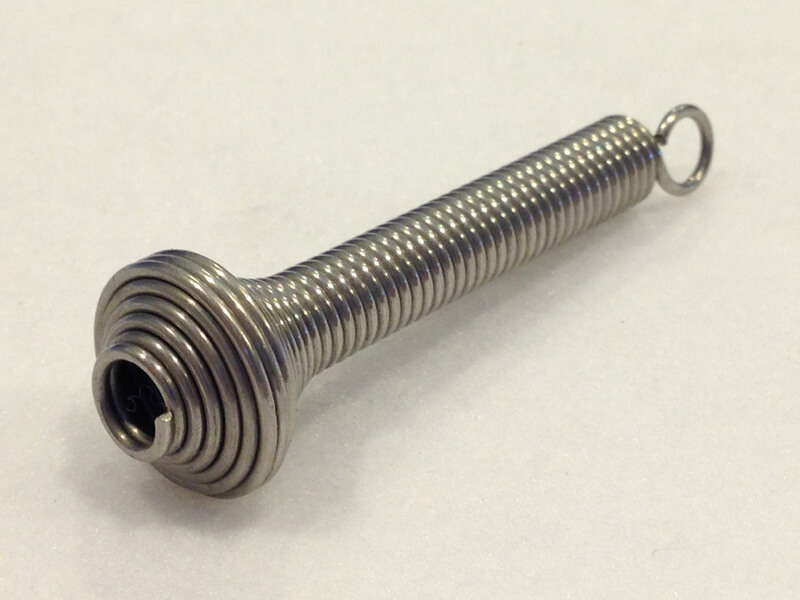 Common Applications for Extension Springs
Extension springs are found throughout many applications. Here are some common applications where extension springs are used:
Trampoline equipment
Exercise equipment
Reclining chairs
Garage doors
Screen doors
Carburetors
Robots
Extension Spring Materials
Spring steels most commonly used in our process for manufacturing Extension Springs are Oil Tempered, Chrome Silicon, Music, and Stainless Steel wire. We can provide you with extension springs ranging in wire diameters from .007″ up to .750″. Many of our prototype and short run orders range within these sizes.
Below details the common materials and grades that we work with, but if the material needed for your project isn't listed, please feel free to fill out a quote today!
| Material | Grade | Specification | Request A Quote |
| --- | --- | --- | --- |
| High Carbon Spring Wire | Music Wire | ASTM A228 | |
|   | Hard Drawn | ASTM A227 | |
|   | Oil Tempered | ASTM A229 | |
| Alloy Steel Wire | Chrome Silicon | ASTM A401 | |
|   | Chrome Silicon Valve | ASTM A877 | |
| Stainless Steel Wire | 302 | ASTM A313 (AISI 302/304) | |
|   | 304 | ASTM A313 (AISI 302/304) | |
|   | 316 | ASTM A313 (AISI 316) | |
|   | 17-7 PH | ASTM A313 (631) | |
| Non-Ferrous Alloy Wire | Phosphor Bronze | ASTM B159 | |
|   | Beryllium Copper | ASTM B197 | |
|   | Brass | ASTM B134 | |
|   | Copper | ASTM B152 | |
| High Temperature Alloy Wire | Inconel 600 | ASTM B166 | |
|   | Inconel x750 | AMS 5698, 5699 | |
| Special Purpose Alloys – Wire | Elgiloy | AMS 5833 | |
| Low Carbon Spring Wire | Cold Rolled Steel (CRS) | ASTM A510 / ASTM A853 | |
Extension Spring Gallery