A compression spring is a helical spring that provides a force as the spring is compressed. Compression springs have several types of shapes including conical, barrel, hourglass, and the most common type of all, cylindrical. Compression springs are available with or without a grind on the ends. A compression spring with a grind will stand more square than a spring without a grind. Springs with square, ground ends will have a lower solid height than a spring with no grind.
M & S Spring is a leading manufacturer of compression springs. We make purchasing springs simple by providing you with accurate design input while meeting your demands for quality, price, and delivery. This is accomplished by using our customized Customer Order Management System (COMS) software, design software, and manufacturing equipment.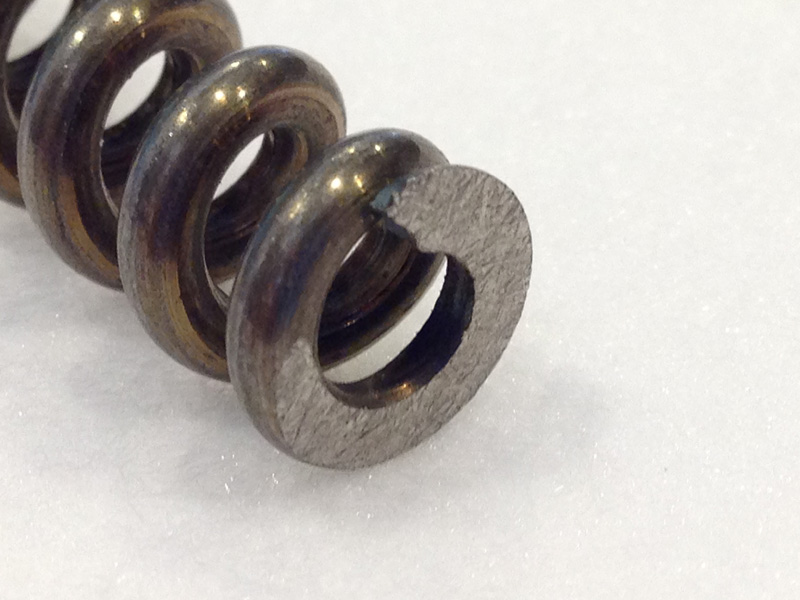 Types of Compression Springs
M & S Spring Company manufactures all types of custom compression springs including barrel, conical, cylindrical, and hourglass designs. Design details and advantages of each type of compression spring are as follows:
| Type | Design | Advantage |
| --- | --- | --- |
| Barrel | A barrel shaped compression spring is represented with the end coils being smaller than the center coils. | Lower overall solid height than a compression spring. Produce more lateral stability or resistance to surging. |
| Conical | A conical shaped spring has a tapered shape with the purpose of providing the ability for the coils to nest against each other allowing a shorter solid height. | Increased spring rate. Produces more lateral stability or resistance to surging. |
| Cylindrical | The shape of the cylindrical spring is characterized by having the same coil diameter throughout the entire length of the spring; end to end. | Linear spring rate throughout length. Most common compression spring type among applications. |
| Hourglass | An hourglass shaped compression spring has end coils that are larger than the center coils (concave); opposite of how a barrel spring is shaped. | Lower overall solid height than a compression spring. Produce more lateral stability or resistance to surging. |
Common Industries that Use Compression Springs
M & S Spring is ISO 9001:2015 and ITAR certified, and our company provides custom compression spring products to a wide range of industries including:
Aerospace
Automotive
Commercial Goods
Electronics
Industrial
Medical
Military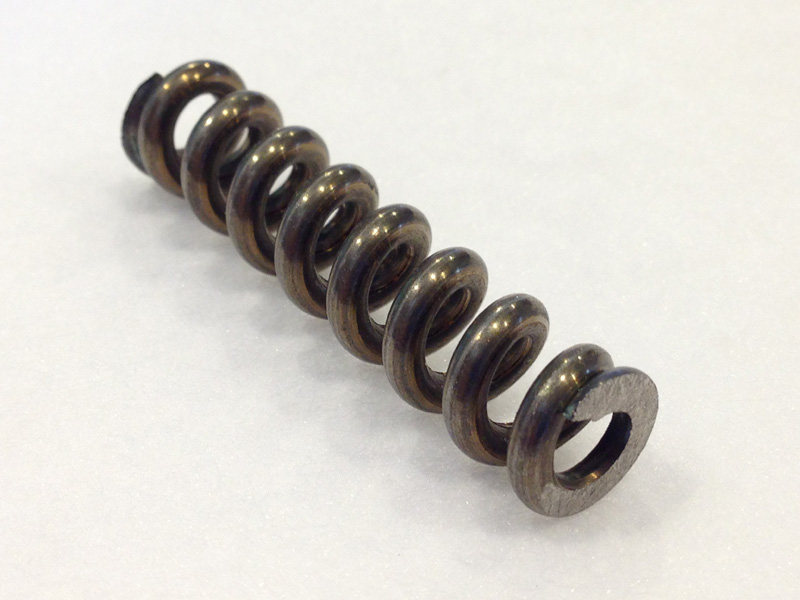 Common Applications for Compression Springs
Compression springs are found throughout many applications. Here are some common applications where compression springs are used:
Firearms
Pressure valves
Tools
Automotive components
Electronics
Major appliances
Toys
Ink pens
Electrical battery contacts
Food preparation equipment
Sizes Offered
M & S Spring manufactures a wide range of sizes from large diameter compression springs to extremely small compression springs. We can provide you with compression springs ranging in wire diameters from .007″ up to .750″. Many of our prototype and short run orders range within these sizes.
Compression Spring Materials
Spring steels most commonly used in our manufacturing process for compression springs are Oil Tempered, Chrome Silicone, Music, and Stainless Steel Wire, along with other precious metals such as Brass, Phosphor Bronze, and Beryllium Copper. Below details the common materials and grades that we work with, but if the material needed for your project isn't listed, please feel free to fill out a quote today!
Round Wire
| Material | Grade | Specification | Request A Quote |
| --- | --- | --- | --- |
| High Carbon Spring Wire | Music Wire | ASTM A228 | |
|   | Hard Drawn | ASTM A227 | |
|   | Oil Tempered | ASTM A229 | |
| Alloy Steel Wire | Chrome Silicon | ASTM A401 | |
|   | Chrome Silicon Valve | ASTM A877 | |
| Stainless Steel Wire | 302 | ASTM A313 (AISI 302/304) | |
|   | 304 | ASTM A313 (AISI 302/304) | |
|   | 316 | ASTM A313 (AISI 316) | |
|   | 17-7 PH | ASTM A313 (631) | |
| Non-Ferrous Alloy Wire | Phosphor Bronze | ASTM B159 | |
|   | Beryllium Copper | ASTM B197 | |
|   | Brass | ASTM B134 | |
|   | Copper | ASTM B152 | |
| High Temperature Alloy Wire | Inconel 600 | ASTM B166 | |
|   | Inconel x750 | AMS 5698, 5699 | |
| Special Purpose Alloys – Wire | Elgiloy | AMS 5833 | |
| Low Carbon Spring Wire | Cold Rolled Steel (CRS) | ASTM A510 / ASTM A853 | |
Compression Spring Gallery