A torsion spring is used when there is a need for rotational torque. There are two types of torsion spring designs – single and double, with single torsion springs being the most common type. When a Torsion Spring is assembled over a shaft, it is important to note that, as the spring is rotated in a normal direction, the inner diameter reduces which can cause binding on the shaft along with unnecessary stresses to the spring; it is critical to take into consideration the inside diameter of the spring along with the shaft size it works over. Typically the more malleable spring materials (i.e. Music Wire ASTM A228, Oil Tempered Wire ASTM A229, and 302 Stainless Steel ASTM A313) are used when torsion spring legs require tight bend radii. Generous bend radii in leg configurations, and any bend areas, helps to prevent fracturing in the spring materials used.
At M & S Spring, we make your spring purchasing experience simple by providing you with accurate design input while meeting your demands for quality, price, and delivery. This is accomplished by using our customized Customer Order Management System (COMS) software, our spring design software, and specialized spring manufacturing equipment.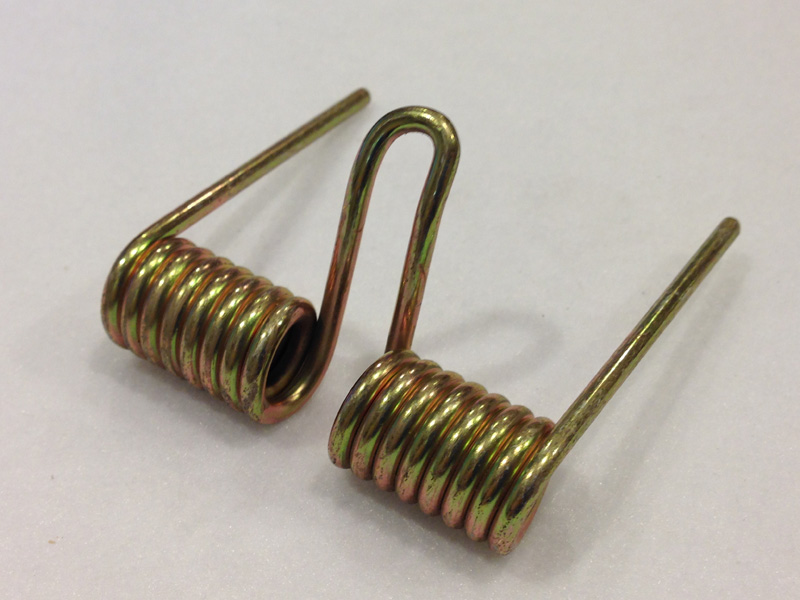 Basic Torsion Spring Leg Positions
Types of Torsion Springs
M & S Spring manufactures all types of custom torsion springs including single and double torsion designs. Below details the advantages of each type of torsion spring.
| Type | Design | Advantage |
| --- | --- | --- |
| Single | Single torsion springs are represented by having a single set of body coils with leg lengths that most commonly extend outwards from the body coils. | Most economical approach for torsion springs. |
| Double | Double torsion springs are characterized by having two sets of body coils connected by a center bar, or section of wire, and are made up of one continuous strand of spring wire. | Provides advantages with installation and/or operation. The Left and Right hand side of the spring can work in close proximity. |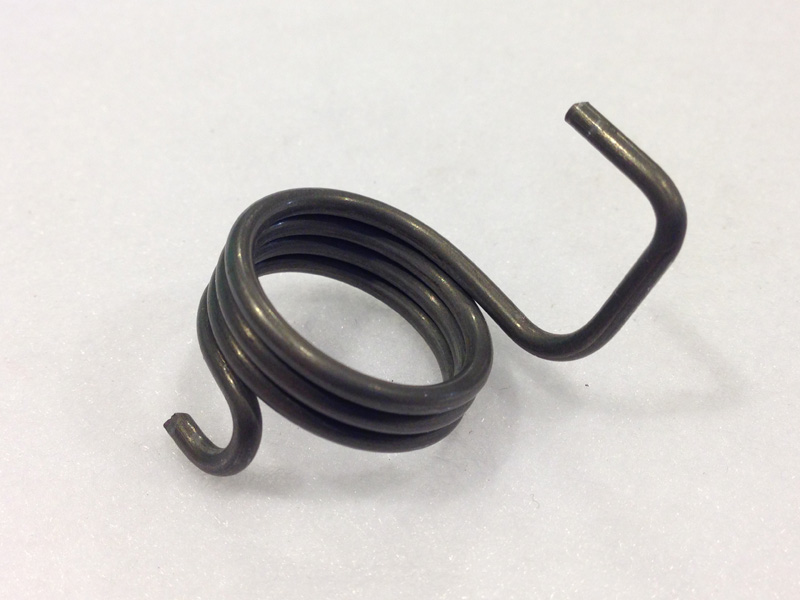 Common Applications for Torsion Springs
Torsion springs are found throughout many applications. Here are some common applications where torsion springs are used:
Garage doors
Hinges
Clothes pins
Vehicle arm rests
Heavy hatch doors
Clip boards
Trailer tailgates
Torsion Spring Materials
Spring steels most commonly used in our process for manufacturing torsion springs are Oil Tempered, Chrome Silicon, Music, and Stainless Steel wire. We can provide you with torsion springs ranging in wire diameters from .010″ up to .750″, with many of our prototype and short run orders ranging within these sizes. We also have the capability of manufacturing a wide range of torsion spring leg configurations. We can also supply torsion springs with a variety of special finishes or coatings to your specification.
Below details the common materials and grades that we work with, but if the material needed for your project isn't listed, please feel free to fill out a quote today!
Round Wire
| Material | Grade | Specification | Request A Quote |
| --- | --- | --- | --- |
| High Carbon Spring Wire | Music Wire | ASTM A228 | |
|   | Hard Drawn | ASTM A227 | |
|   | Oil Tempered | ASTM A229 | |
| Alloy Steel Wire | Chrome Silicon | ASTM A401 | |
|   | Chrome Silicon Valve | ASTM A877 | |
| Stainless Steel Wire | 302 | ASTM A313 (AISI 302/304) | |
|   | 304 | ASTM A313 (AISI 302/304) | |
|   | 316 | ASTM A313 (AISI 316) | |
|   | 17-7 PH | ASTM A313 (631) | |
| Non-Ferrous Alloy Wire | Phosphor Bronze | ASTM B159 | |
|   | Beryllium Copper | ASTM B197 | |
|   | Brass | ASTM B134 | |
|   | Copper | ASTM B152 | |
| High Temperature Alloy Wire | Inconel 600 | ASTM B166 | |
|   | Inconel x750 | AMS 5698, 5699 | |
| Special Purpose Alloys – Wire | Elgiloy | AMS 5833 | |
| Low Carbon Spring Wire | Cold Rolled Steel (CRS) | ASTM A510 / ASTM A853 | |
Torsion Spring Gallery